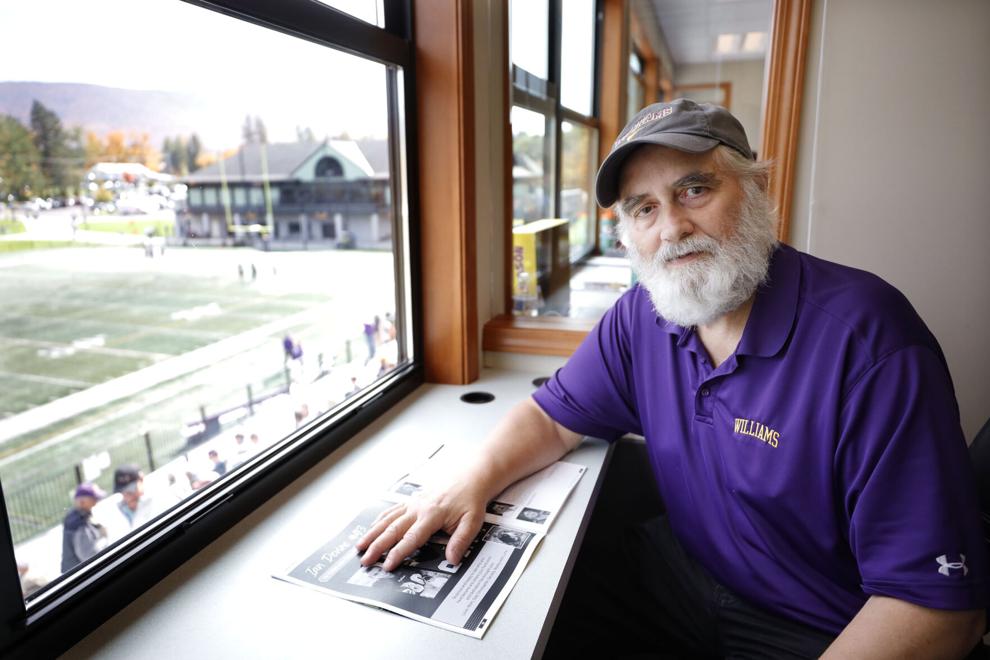 PITTSFIELD – Williams College is a small school with a big athletic program.
The college, which competes in NCAA Division 3, fields sports teams in 32 sports, four less than Ohio State's Division 1 powerhouse, whose standalone athletic department has an $80 budget. millions of dollars.
It's not easy to track and disseminate information about so many teams in so many sports at any school, but at Williams that task falls to Dick Quinn, who is the director of sports information at the college since 1989.
He originally entered college athletics through an Eastern College Athletic Conference internship program in the late 1970s. In 2009, Quinn became the first Division 3 sports information director in be inducted into the New England Basketball Hall of Fame. He holds a master's degree in communication arts.
We recently spoke with the Williamstown native about why he became a sports news director, what the job entails and why he loves it so much.
Q: Why did you want to be director of sports information?
A: After 10 years as an assistant and associate athletic director at NCAA Division 1 schools (Marist College and Iona College), I decided to pursue other options in collegiate athletics.
Q: What does a Sports Information Director do and what are the responsibilities associated with this position?
A: My job as Director of Sports Information and Associate Director of the Office of Communications at Williams is to publicize and promote Williams College's varsity sports program which includes 32 sports.
Q: You grew up in Williamstown. Was it your goal to work at Williams or did it just happen?
A: I have always respected Williams' academic approach and large-scale athletic program. As I was looking for a change, my family home in Williamstown became vacant. My wife, Kathy, and I decided that Williamstown would be a great place to raise our five children. Just before moving to Williamstown, Williams' position opened up and I was excited to apply.
Q: Did you follow Williams' sports growing up?
A: I participated in many Williams sporting events growing up because it was exciting to see a higher level of play. At the time, there was an entrance fee. My friends and I had to get creative to "sneak" into games. One football tip was to wait for the group to walk down Spring Street, and as he approached the gate of Weston Field, we would slip in with the group and pretend we were supposed to be there. The energy surrounding every Williams contest was something I had never witnessed before, even watching high school sports as a kid.
Q: Were you a high school athlete?
A: I played baseball, basketball and football at Mount Greylock. I was blessed to be captain of the Western Mass basketball championship team. Small School in 1969 with Ken Anderson of Lanesborough. This team remains the only championship men's basketball team in Greylock. I would like to see an end to this drought for the RCMP. I went to Holy Cross but didn't play sports there.
Q: You moved around a lot before coming to Williams 33 years ago. What have you learned in the various stages along the way and how have they shaped your career at Williams?
A: What I've gained, first and foremost, is an appreciation for all the work that goes on behind the scenes to field, compete, and promote at the college level. Before coming to Williams, I was troubled by the number of inequities in other sports programs. Williams Sports Information focuses on supporting each of its 32 teams.
Q: How is what you do at Williams different from the same job at a Division 1 school?
A: Although many duties are similar, Division 1 schools would have professional staff in their sports information office. At Williams, I oversee a very competent student team. They are able to write game stories, take photos, create videos, compile game statistics and more.
Q: How many students work in sports information at Williams?
A: Last year, 97 students worked at Eph Sports Information. Right now we have 53 student workers, but we're only into the fall. We have writers, stats teams, color commentators, videographers, photographers and a few office workers to update our website and social media accounts.
Q: Why do you have so many?
A: The demand for information and the ability to provide webcasts as well as create and manage social media accounts has significantly increased the workload. The Eph Sports Information site on Williams.edu is the most visited sub-portal year after year. It's usually well over two million a year and sometimes over three million. (The college sports teams are called the Ephs, after Colonel Ephraim Williams, after whom the school is named.)
Q: How was the work with the students?
A: The best part of my job is getting to know and working with the students at Eph Sports Information. Second best is getting to know the athletes and backstage staff who wear the Williams purple with so much pride. Many of these people have stayed in touch over the years and have offered their support to Williams Sports in their future endeavours.
Q: Have you ever thought about doing your job at a senior college level or for a professional sports team?
A: No. I live in the house where I grew up and I walk to work. I work with the best kids in the country in Eph Sports Information and we first cover the other kids who are here for college. Believe me, the kids who compete for Williams want to win as much as anyone else in college athletics, but they came to Williams for the combined academic and athletic excellence here that is second to none.
No other college or university has ever been ranked #1 nationally in academics and won the Learfield Sports Directors Cup, which is awarded for program-wide athletic achievement. Williams has done it 20 times. (The Learfield Sports Directors Cup is awarded annually to the top school in NCAA Divisions 1, 2, and 3 based on points awarded for each institution's finish in NCAA tournaments. Williams has previously won the trophy for the split 3.)
Q: What do you enjoy most about working at Williams?
A: Ironically, what I love most is also what I feared the most when I took the job: relying on student workers. It is always a privilege to get to know and work with such amazing young people from all over the world.
Additionally, there is something special about Williams that creates a culture of respect and support across campus. This culture extends across borders into the community. For example, a highlight each fall is our annual block party welcoming new Williams families to the neighborhood.