Whether you want to advance in your career or start a new career path, higher education is essential. So, what are the graduate degrees that could help you achieve your goals? It depends on what you hope to achieve.
With programs in arts, business, or science, there are many types of graduate degrees that can help prepare you for a variety of careers.
If you want to further your education, it's important to understand the types of degrees available and explore which one might be best for you.
What is considered a graduate degree?
A graduate degree is an advanced educational program designed to focus deeply on one field or discipline. One of the most common types of graduate degrees is a master's degree. While most master's programs last around two years, some can be completed in as little as one year.
A four-year bachelor's degree is generally required for admission to a master's program. After earning a master's degree, some students also pursue another type of graduate degree known as a doctorate.
There are many differences between bachelor's and master's programs, including different credit requirements and a focus on more specific areas of learning. The specialized skills acquired in a graduate program can help you land leadership positions in your field and earn more money.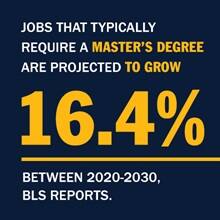 According to the US Bureau of Labor Statistics (BLS), master's degree graduates earned on average 18% more in their weekly earnings than bachelor's degree graduates in 2021.
Jobs for graduate degree holders are also on the rise – they are expected to increase by 16.4% by 2030. Jobs for bachelor's degree holders are expected to increase by 9.9%, according to BLS data.
If you're ready to advance your career, it's time to explore the different types of graduate degrees and find out which one is right for you.
How many types of graduate degrees are there?
Whatever career you want to pursue, there's likely a graduate program that can help you achieve your goals.
Some of the most common types of graduate degrees include these master's degree programs:
Master of Science (MS)
Master of Arts (MA)
Master of Business Administration (MBA)
Other specialized masters
Deciding which program is right for you depends on your career goals.
Master of Science (MS)
A master of science typically focuses on scientific or technical expertise. In an MS program, you'll likely learn key technical skills that you can immediately apply to your field.
Some of your MS options include:
MS in Accounting: Gain key accounting skills and experience in areas such as auditing, financial analysis and accounts payable. This diploma could help you access high-level positions in the banking, tax or insurance fields.
MS in Cyber ​​Security: Learn how to develop effective security controls, understand cyber threats, and reduce the negative impact of data breaches.
MS in Data Analytics: Dive into understanding data and creating on-demand statistical techniques for collecting and analyzing large data sets.
MS in Information Technology: Acquire advanced computer skills and serve as a bridge between IT services and organizational management.
Learn more about what an MS degree is.
Master of Arts (MA)
A Master of Arts focuses on the humanities and theoretical understanding of the subject matter. Learn more about the difference between an MA and MS degree.
Some of your master's options include:
Masters in Communication: Gain hands-on experience using current communication practices to deal with real-life situations, so you can immediately apply your learning to your daily work.
Masters in English and Creative Writing: Learn how to effectively tell your story and share ideas with the world by studying literature and developing creative writing skills.
MA in History: Delve into advanced research, analysis, presentation, writing, and critical thinking skills – skills you can use for a career in history, education, or many other fields.
Masters in Clinical Mental Health Counseling: Develop the skills you need to become a licensed clinical mental health counselor and learn how to work effectively with a wide range of clients.
Learn more about what a master's degree is.
Master of Business Administration (MBA)
An MBA is one of the most demanded graduate programs. MBA programs typically focus on a specific area of ​​concentration and leverage real-world learning. MBA programs also develop in-demand soft skills such as leadership, communication, and collaboration.
Some of your MBA options include:
MBA in Business Analytics: Learn how to use data to help an organization implement change and achieve business goals.
MBA in Marketing: Develop a better understanding of consumers and how to market to them, including communication strategies that can help your audience take a specific action.
MBA in Project Management: Learn about the processes that can help you plan and deliver a project on time and on budget. You can also take courses that can help you prepare for the Project Management Professional (PMP)® certification.
MBA in Finance: Explore topics such as short-term financial management, portfolio management, and capital budgeting. Prepare for advanced financial roles such as financial analyst, security analyst and investment broker.
Learn more about what an MBA is.
Other Specialized Masters
Beyond these common types of graduate degrees, there are other master's degree programs that may be available depending on the field you are studying.
Some of these graduate programs include:
Master of Science in Nursing (MSN): An MSN degree can help prepare you for advanced nursing careers and focus on a specific area of ​​the medical field. Available concentrations include population health, nursing education, nursing leadership, and health care quality and safety.
Master of Public Health (MPH): With an MPH degree, you can learn how to act quickly to help control outbreaks and disease. You can also explore how to develop community wellness programs and advocate for public policy changes with global implications.
Master of Education (MEd): An MEd degree prepares educators to be leaders in their field. You can learn to apply local, state, and national standards to classroom instruction and can design learning experiences for different ages and learning environments.
Choose your graduate degree
The most important factor to consider when choosing a graduate degree is how the program will prepare you to achieve your career goals.
Do the courses match the skills you need to land the job you want? Will the program help you prepare for any professional certifications you may need? Will you be ready to move on to a more advanced graduate degree like a Ph.D. or EdD?
Whichever type of graduate program you choose, you'll develop the skills that employers are looking for, which will allow you to advance your career or start a whole new one.
A degree can change your life. Find the SNHU master's program that can best help you achieve your goals.
Danielle Gagnon is a freelance writer focused on higher education. Connect with her on LinkedIn.