Business does not mix with religion in the same way that it does not mix with pleasure. Some would say the AFL is a religion among its legion of fans, but first and foremost it's a business. Andrew Thorburn and the Essendon management who foolishly made him chief executive should have understood this.
Apart from Essendon having to operate as a sustainable business, its customers (fans and supporters) are a diverse church and alienating a decent sized portion of them is a recipe for underperformance. Likewise, the donors who contributed the lion's share of the club's money in 2021 would be another cohort that Thorburn's appointment was likely to upset.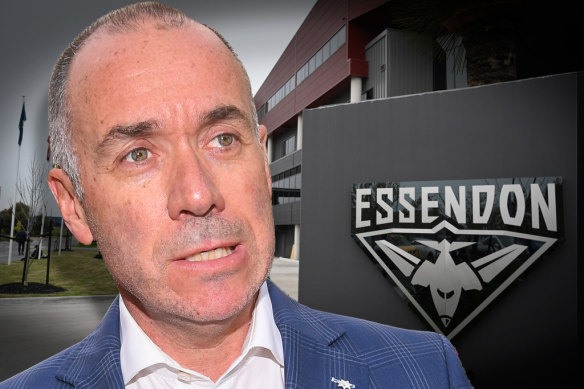 The controversy that has since engulfed Essendon is a clear sign of changing times. A decade or two ago, corporations and their stakeholders might have tolerated Thorburn's association with a church with strong views on homosexuality and abortion. But not today.
Whether Thorburn personally holds these extreme views is irrelevant, Essendon is a valuable and highly recognized brand, and it cannot afford to be tarnished by proximity to views deemed offensive by much of its fan base. and the community at large.
Various mainstream churches have intervened in defense of Thorburn, adding that the views expressed by the church are not in line with their doctrine. Companies these days have to work hard to earn their social license and, by extension, their executives and board too.
While the choice to have Thorburn manage the club appears to be the latest in a series of governance disasters at Essendon, it looks like a misstep that could have easily been avoided. The club's board of directors will have the task of justifying why he should keep his place.
Thorburn, who was looking to rekindle his public profile, had a choice of staying with his church or starting a new career at Essendon. And it is a choice that must be respected.
Thorburn's suitability to lead the football club has come under fire, with critics pointing to his past performances as chief executive of the National Australia Bank.
Anyone who has followed the royal commission into financial services will remember that under his direction (and that of his predecessors) the bank badly mistreated its clients, charging them (some dead) $650 million in advisory services that weren't not provided. Only one of the big four bank bosses ultimately survived the royal commission, and Thorburn was specifically singled out by Commissioner Kenneth Hayne for failing to appreciate the seriousness of his bank's misdeeds.