Taking drinks up a notch with an old-but-new concept, Siren Shrub Co. has taken its business up a notch in just a few short years.
The women-owned company based in Stevens Point makes tasty combinations with its shrubs – non-alcoholic syrups, not to be confused with small bushes. These concentrates are made from apple cider vinegar, fresh fruits, roots and herbs, then sweetened with cane sugar or maple syrup.
The idea came when Layne Cozzolino was pregnant; she and her friend Mindy McCord discovered that the shrubs were an ideal substitute for alcohol. As they shared their recipes, they discovered that the flavors also appealed to drinkers as something new and fun as craft cocktails and mocktails began to grow in popularity.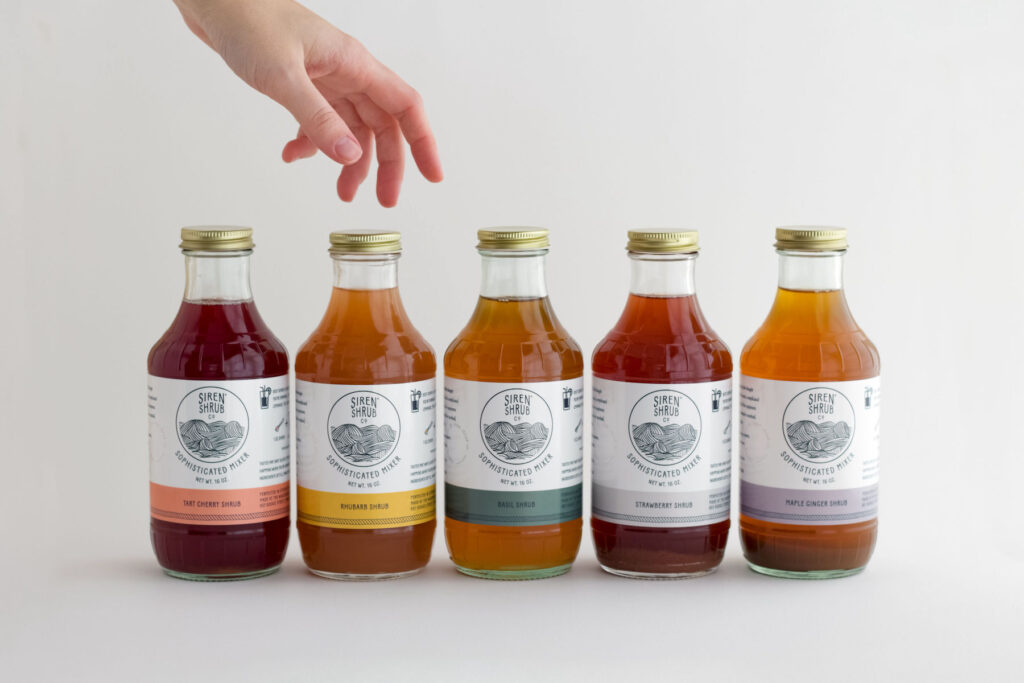 First step: a product
The co-founders approached the Wisconsin Small Business Development Center (SBDC) at UW-Stevens Point in August 2019 because they were both working on Siren Shrub as a side business and wanted to take things to the next level. Specifically, they asked for help diversifying revenue streams through wholesale distribution, e-commerce, and new product development. They received a working capital loan of $50,000 through a local Community Development Financial Institution (CDFI), which enabled Layne to transition from his non-profit job to entrepreneurship to full-time.
To advance these skills, Layne also participated in a financial management boot camp and consultant training through the Food Finance Institute (FFI) in 2019.
"I did not go to business school, so business in a technical sense was not part of my background, but throughout my professional career, and now Siren Shrub Company, I have gained the lived experience necessary to run a business, and I lean into available resources and expertise when there's more to learn," Layne said of things like cash flow, projections and inventory.
Second jump: another product
Then the couple was encouraged to apply for the Ideadvance seed fund, funded by the Wisconsin Economic Development Corporation (WEDC) and the UW system. Ideadvance, run by the Center for Technology Commercialization (CTC), is a rigorous program that combines money, mentorship, and progression to milestones to turn innovative ideas into feasible businesses.
Siren Shrub received Phase 1 funding (generally up to $25,000) in 2020 and Phase 2 funding (generally up to $30,000) in 2021.
The objective of their phase 1 work Ideadvance was to produce, promote and distribute a canned shrub product. In August 2020, it was determined that there was strong interest from consumers and distributors to move forward, and they officially launched it in the fall of 2020.
(Listen to their program takeaways in their own words: video)
Step Three: Funding and More
The objective of phase 2 of Ideadvance was to position Siren Shrub for investment.
That has meant focusing on their next big steps, Mindy said: "What are we going to do to fundraise, where are we going to go next, and what parts of our operation need improvement?"
Siren Shrub does not pursue the somewhat popular "unicorn" model of rapid growth through large investments. "We're interested in growing as a national brand, but much more in a niche," Layne said. "We are not ready or necessarily interested in consumer markets. There is an educational component to what we offer that will take time for the market to adopt. We talked more about crowdfunding as a better platform. Our business is based on building relationships: small distributors, small businesses and moms and dads. We have been fortunate to work with Ideadvance consultants who have supported us by allowing us to examine our business viability through our value lens. They listen to our business needs. Brian (Walsh) and Idella (Yamben) have been so supportive and amazing in this process.
To support their growth, Mindy shifted her work to Siren Shrub in September 2021, and they even hired a part-time employee to help out.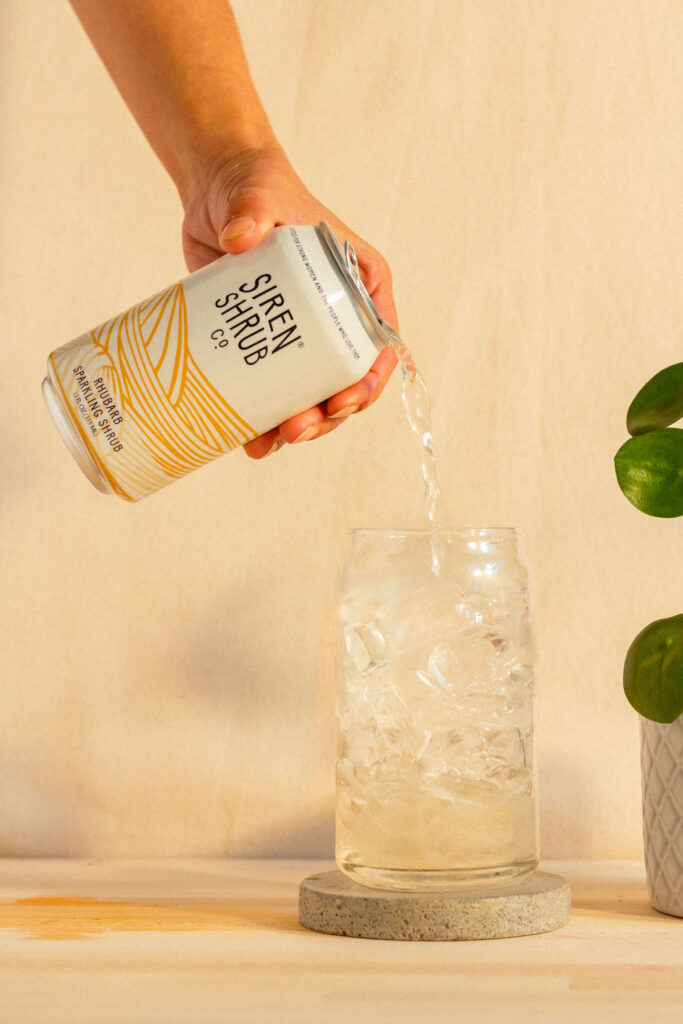 The future
Today, Siren Shrub has expanded to a line of five bottled shrubs (honeycrisp, basil, lemongrass, maple, ginger and tart cherry) and three canned sparkling drinks (basil, rhubarb and tart cherry). Their products are available online and in over 200 stores.
In 2022, Layne and Mindy's hard work caught the eye. In January, he was featured on the season opener of Wisconsin Foodie on PBS Wisconsin.
In February, they released a second limited-edition collaboration flavor in partnership with Black Oxygen Podcast – a cocoa-based shrub, which benefited the Madison365 podcast. Layne and Mindy plan to continue producing bi-monthly flavor specials as an opportunity to get back into the kitchen and give back to their community. "As a company, we're very focused on building community, and those flavors of collaboration allow us to put immediate/tangible actions behind our values," Mindy said.
What else is exciting as they look to the future and continued growth?
Mindy said: "There's an exciting trend in the drinks industry, and if you pay enough attention to it, you'll start to notice people looking for interesting and mouth-watering drink options that are just as tasty as their alcoholic counterparts. Non-alcoholic does not mean boring! And a bottle of Siren Shrub lets you and your guest decide whether you want an alcoholic or non-alcoholic cocktail without compromising on flavor.
The shrubs open up an opportunity to "make room for inclusive drinks" in Wisconsin's heavy-drinking culture, especially as more people consider drying themselves off full-time or part-time. partial for a healthier lifestyle.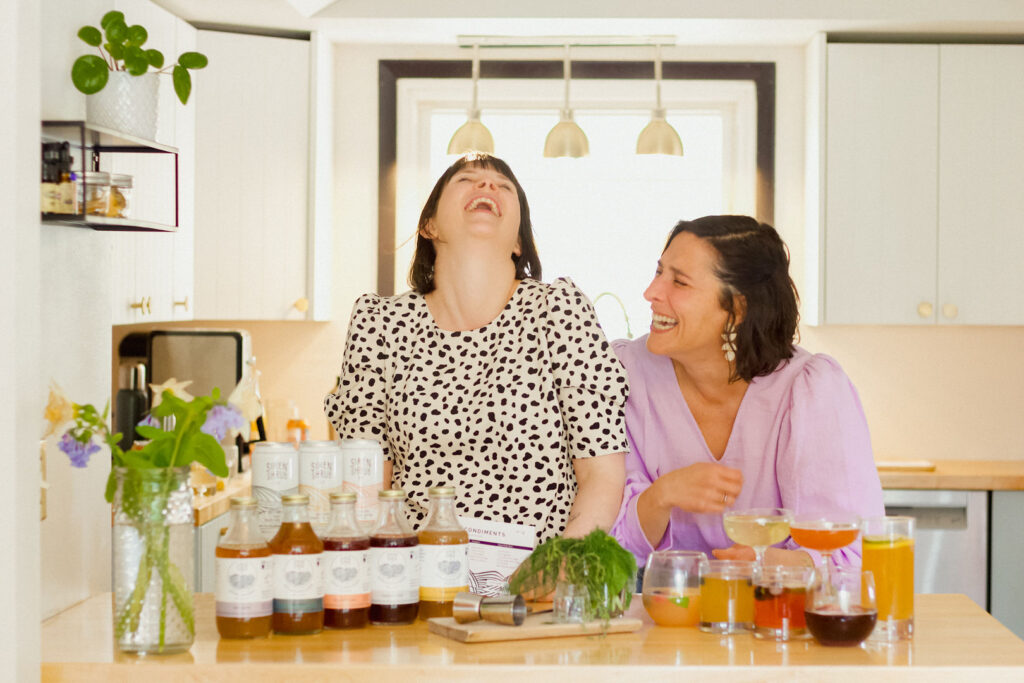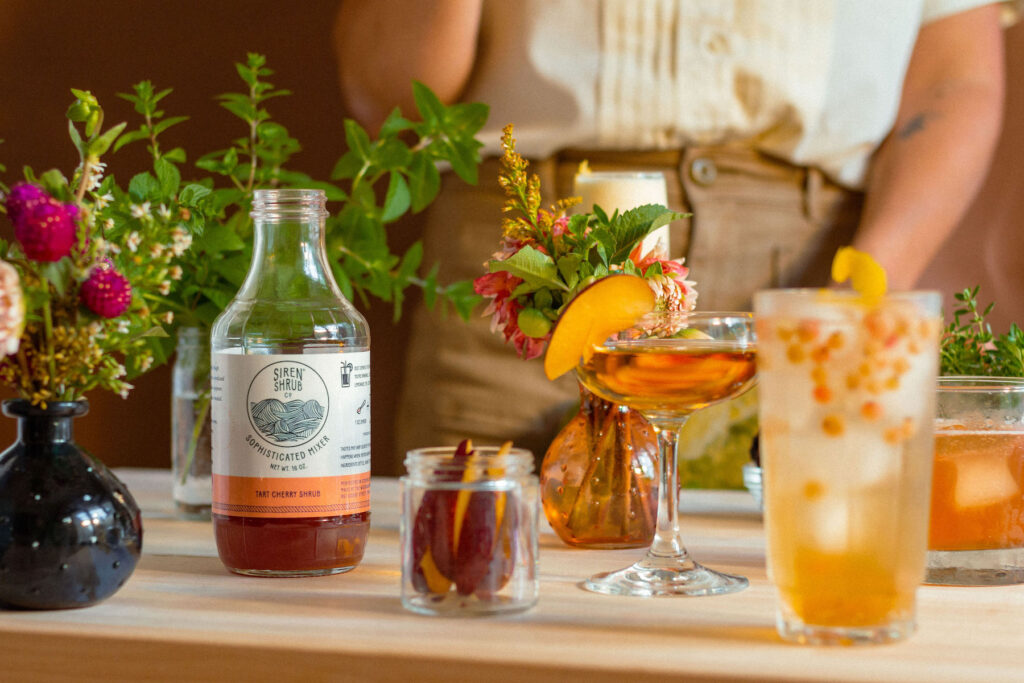 Bonus Questions and Answers
What's it like to be in business as friends and wives?
Layne: "People say, 'Don't go into business with your best friend.' But we've built a business on transparency, trust, and understanding. Things happen; you adjust. We put everything on the table when it's needed, and that has really worked for us. As a business, we've found that mutual support is key. We'd like to see a world that gives women the support they need to succeed in and out of the workplace, and on our small scale, that starts with Mindy and I doing this for each other.
Mindy: "Our personalities are very complementary. Layne is more comfortable taking calculated risks; I am more risk averse. Both traits are strengths on their own, but having both sides of the coin was key for us in our decision making. Being friends in business has really been an incredible support. I feel very lucky to have found and achieved this balance so far.
How to juggle between entrepreneurship and parenthood?
Mindy: "I'm grateful to have a business partner who understands this part of life, to have this flexibility to work when we can. Unlearning the habits of a traditional 9 to 5 job has been interesting. Even though we have the flexibility, I still find myself apologizing or feeling guilty when I use the freedom of flexibility; it's something that I think Layne and I are both working on.
Layne: "That's not the traditional lens we hear about. We had to make decisions that work for us as mothers and women. Sometimes that means going against "the way it's always been done" and forging a path that works for us. »
---
Written by the Institute for Business & Entrepreneurship, a proud part of the University of Wisconsin system.
Link to original story: https://business.wisconsin.edu/client-successes/siren-shrub-side-hustle-to-multi-product-multi-flavor-company/