The University and College Union (UCU) said a record number of its members had taken part in picketing at universities across the UK, on ​​the first day of strikes affecting more than 150 higher education establishments.
About 70,000 striking researchers, academics and administrators were joined on Thursday by students, as well as caterers, cleaners and other support staff from the Unison and Unite unions who are also striking for better working conditions. pay and work at a number of universities.
UCU general secretary Jo Grady joined around 100 union members and students picketing the entrance to the University of Manchester on Thursday morning, saying staff were 'at breaking point' and had no alternative.
She said: 'Wages are abysmal, down 25% since 2009. Our pensions have been cut by 35% despite the scheme being in surplus and we could easily reinstate that cut. And we also have a system where a third of academic staff – 90,000 people – are employed on precarious contracts.
"The staff work the weekends as a routine to keep the show on the road. We can do nothing but call a strike to change the sector.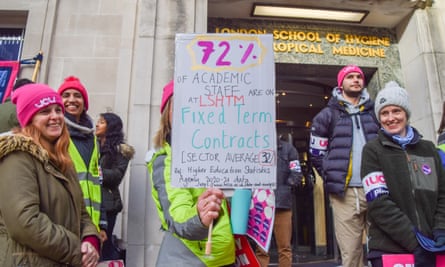 The industrial action means that up to 2.5million students face a disruption to their education in what has been billed as the biggest strike in UK higher education history. The strike continues next Friday and Wednesday, and further actions are planned.
The UCU's demands include a pay rise in recognition of the cost of living crisis, after this year's 3% interest rate hike, and an end to precarious, short-term contracts. On pensions, the UCU wants employers to reverse revisions imposed this year which it says will see the average member lose 35% of their future retirement income.
However, the University and College Employers Association (UCEA) claimed there were only "isolated levels of disruption" on the first morning of the strike.
Raj Jethwa, Chief Executive of UCEA, said: "Despite initial feedback from higher education institutions suggesting a low and isolated impact on students, it is sad that only one student missed a class due to a industrial action, particularly as the UCEA consults on an early start to 2023-24 wage negotiations to address cost of living concerns.
He said: "Strike action will do nothing to support students, staff or the many higher education institutions who are working hard to avoid layoffs or maintain staffing levels."
Jethwa said the UCU's demand for a 13.6 per cent pay rise was "unrealistic" and would cost the institutions in the region of £1.5billion. "UCU leaders must provide their members with a realistic and fair assessment of what is achievable, as the strike does not create new funds for the sector," he said.
The UCU campaign is part of a growing wave of strikes taking place across the UK this winter, including action by tens of thousands of teachers in Scotland, who also went on strike on Thursday and planned to other dates for next year.
Unison members from 19 universities are also on strike after rejecting a 3% offer earlier this year. Mike Short, head of education at Unison, said: "Low pay has been a massive and growing problem in the university sector for over a decade. The cost of living crisis is pushing people to the brink. University support staff can't even cover the basics. They have had enough and leave the sector for better paying jobs.
Unite members from 10 UK universities are also on strike, arguing that the 3% pay offer was a big pay cut in real terms. Sharon Graham, Unite's general secretary, said: 'Universities and UCEA know they can afford to deliver a better deal than what has been thrust upon them and they must do so.
The National Union of Students (NUS) says it supports the campus strikes, despite the impact they will have on its members. Chloe Field, its Vice President for Higher Education, said: "We have always been clear that the working conditions of staff are the conditions of learning for students, and for more than a decade, two are under attack from a sector that puts profits above education.
But Robert Halfon, England's minister for skills, learning and higher education, said it was "hugely disappointing" for students who had already suffered during the pandemic to face further disruption. "I urge all parties to work together so that students do not suffer further learning losses," he said.