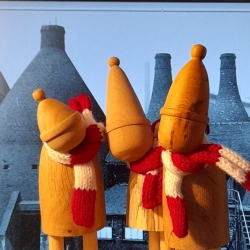 According to a new study by Aviva. Just under two-thirds (63%) of those who started a stampede since March 2020, the equivalent of 6.49 million people, are still active there today. 37% have returned to their daily work as their main source of income now that the shutdowns are over and normalcy has ensued.
The most popular "side job" people chose to pursue was "selling crafts" (23%), followed by freelancing (12%). One in nine (11%) have turned to art, 9% to photography, while a similar number (10%) have tried their hand at being a social media influencer. It was most popular with 16-24 year olds (13%) – no one in the 55+ age group did it as a side activity. Other, slightly less popular income boosters included becoming a courier (6%), teaching (6%), driving a taxi (4%) and offering nutritional advice (4%).
When asked what their initial motivation was for starting a side hustle on top of their normal full-time job during the pandemic, most said it was financially motivated. Two in five (39%) said they did it because they saw it as an opportunity to turn a hobby into an income; others to "make ends meet" (30%); becoming financially independent (21%) or paying off debts (18%). More than a quarter (27 percent) started their new calling to empower themselves/gain confidence and improve their mental health, while 16 percent just wanted to practice the skills they learned (that's i.e. photography, consulting, etc.).
There is no doubt that there is extra money to be made when individuals use their talents and skills to produce products or provide services that other people want. And, there is no shortage of people in the UK looking to buy these products or services. On average, scammers earn around £497 per month from secondary income, with more than one in four (28%) earning more than £500 per month.
Almost two in five people (38%) used the money they earned from their stampede for everyday expenses (rent, food, clothes). One in four (25%) said it was used to save for tomorrow or longer term (i.e. pensions) – this figure was consistent across all age groups and genders . Interestingly, three times as many men (23%) as women (just 7%) said they used the extra income they earned to "invest in stocks, stocks and cryptocurrencies."