September 27, 2022
BLOOMINGTON, Ill. – A grant from the National Science Foundation will support efforts at Illinois Wesleyan University to increase the number of students pursuing careers in STEM education.
Through an award from the Robert Noyce Scholarship Program, eligible Illinois Wesleyan students can receive annual scholarships, paid undergraduate research opportunities, and mentorship. The program will provide up to $600,000 in scholarships over five years to at least 20 Titans during the grant term who are studying for a dual degree in secondary education and a STEM (Science, Technology, Engineering, and Mathematics) field. .
The Authentic Research in STEM Educator Preparation for Issues of Culture, Justice and Equity grant proposal was written by Emeritus Miner Linnaeus Sherff Professor of Botany David Bollivar and Associate Professor of Educational Studies Maggie Evans. With Bollivar's recent retirement from IWU, Associate Professor of Biology Loralyn Cozy joined the project as co-principal investigator.
"STEM, an umbrella term that includes the disciplines of math, science, technology, and engineering, is fundamental to America. We need scientists. So much so that this need has been identified as a presidential priority because there are simply too few students pursuing studies in these fields," Cozy said. "The U.S. Department of Labor notes that there are more than a million job openings in STEM-related fields, but not enough qualified graduates to fill them. The NSF funded the scholarship program Noyce Studies for Teachers to recruit, prepare, and retain highly effective K-12 STEM teachers in needy school districts to help address this shortage.
During their undergraduate studies, students will learn by observing and teaching in STEM classrooms at local schools, including McLean County Unit 5 and Bloomington Public Schools District 87. Each scholar will be paired with two Wesleyan faculty mentors to enhance their time in the program. Mentorship will continue for two years after graduation, as new teachers work in underfunded schools.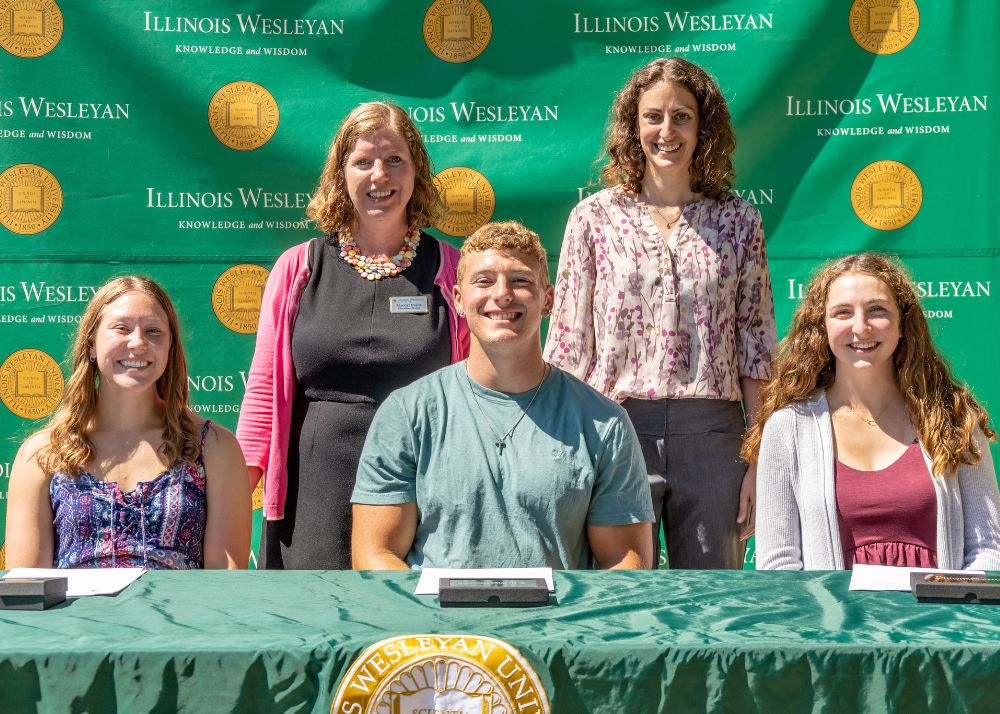 On August 31, the inaugural group of Noyce Scholars – Kate Meyers '24, Seth Albin '24, and Amanda Wilson '24 – were recognized at a ceremony at the IWU President's House. Each student has a double major in secondary education and in a STEM field. President Georgia Nugent congratulated the future teachers of Titan and hailed their action through the scholarship as an example of how Illinois Wesleyan seeks to provide service in the local community and beyond.
"Sometimes when we think of teacher preparation, people may think of the great public institutions in Illinois. Obviously they do a lot, but small private colleges like Illinois Wesleyan prepare about 40 percent of the teachers in the Illinois school system," Nugent said.
One of the main goals of the program is to create a pipeline for McLean County students to become STEM teachers in their own community.
"Local schools are full of talented, smart students who can become amazing STEM teachers," Evans said. "IWU will provide a pathway into their STEM teaching career, especially for McLean County students."
In the process of recruiting students to enter the program, the University will work to encourage and support future students of color to apply, with the goal of creating a more diverse faculty for future classrooms. STEM.
"IWU is thrilled to invest in a diverse group of McLean County students who are passionate about becoming STEM teachers for social justice," said Evans. "Our graduates will be exemplary educators who will help fill the opportunity gap in STEM education.
Prospective high school students and currently enrolled undergraduate students can apply for this scholarship program. More information is available at www.iwu.edu/noyce.
By Julia Perez