More than 70 high school students followed doctors, nurses and a host to Inova Loudoun on Thursday as part of the Loudoun School-Business Partnership Job for Day program.
The partnership has partnered with Inova Loudoun Hospital for over 20 years to give juniors and seniors from every high school in Loudoun County a chance to experience a career of their choice through the observation at the workplace.
At the hospital, this year's students chose from a variety of departments, including Cardiac and Vascular Services, Labor and Delivery, Children's Emergency, Physical Medicine and Rehabilitation, Medicine/Surgery, wound care, trauma services, public relations, materials department, among others.
Catie Collins, a student at Lightridge High School, followed the materials department, learning about the supply chain and logistics of distributing supplies throughout the hospital.
She said she went to different colleges and really liked the aspect of supply chain and marketing management. When she signed up for Job for a Day, she was thrilled to see that there was work she could observe in a field that interested her.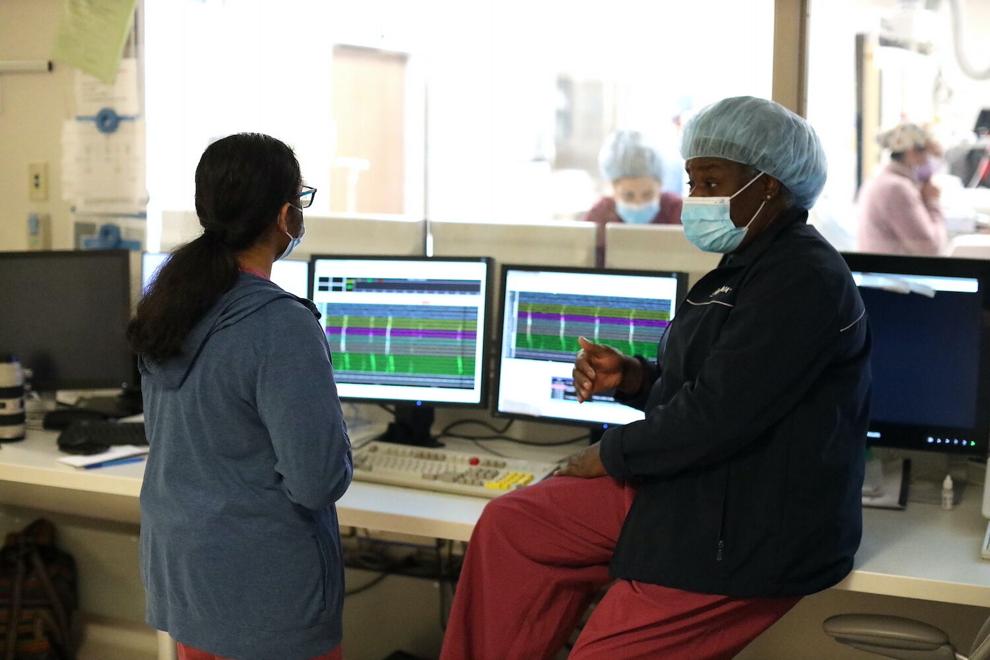 Collins said it was a fun experience.
"We packed up stuff and they put it on these giant carts and we go through the whole hospital and I have no idea where we are, but we always end up in a different room and put things on shelves ", she said. .
She enjoyed seeing life behind the scenes at the hospital and said she recommends students take advantage of Job for a Day next year because it was such a "cool experience".
"Even if you don't choose this department, choose something. There's something for everyone," Collins said.
Niejeen Abdul, a junior at Heritage High School, followed a nurse into the trauma unit. She said she hadn't previously known how often doctors and nurses would come together to collaborate on a patient's treatment.
"There was a lot of problem solving that I didn't expect to happen. I thought it was all known or there was a special order but you come across these obstacles that you didn't know were going to be there and you have to work around them, as a team too, not just one person… there are many teamwork and collaboration," said Abdul.
She said she wasn't sure what she wanted to do and was open to anything, but liked the idea of ​​work that pays off and leaves an impact on others and thinks that something in the medical field would be a good choice.
"It really gave a good insight into what the medical field will be like because we don't have these opportunities every day. You can watch YouTube and 20 different shows, but once you're there in person and you can see and hear it all, it's a whole different thing," she said.
For Soumya Kosoor, a Stone Bridge junior, she had personal experience of the patient side of oncology and wanted to see what it looked like from the medical side. She followed the oncology and surgical staff members for the day.
She said she had to do a lot of practical work, such as making records and helping patients. She said it was a "really cool change of perspective" to be on the medical side after being a patient.
"I used to see things form a patient's perspective and now I'm able to look at it like wow, that's what nurses and doctors actually do behind the scenes," Kosoor said.
She said she also wanted to pursue work in the medical field and become a pediatric oncology nurse.
"I think everyone should do Job for a Day because it's really fun," she said.
Abdul said she wished it was more than a one-day program because she wants to see other departments.
Sukruthi Marmamula, a junior at RockRidge High School, followed Shondra Jones, clinical coordinator for cath and EP.
Marmamula jumped at the chance to shade at the Inova Heart and Vascular Institute because she said she wanted to know more about it.
As part of her experience, Marmamula was able to attend several procedures and learn about advances in cardiovascular treatment.
She loved having the chance to ask questions of the people who work in the field every day.
It was the 20e year Inova joined Loudoun's Job for a Day program.
"As the recent history of the global pandemic has taught us, health and medical sciences are a vital career path on which our nation and the world depend. Having passionate, bright, and talented LCPS students mentoring healthcare professionals not only boosts our "Loudoun-grown" workforce, but also helps students who might discover by participating in this experience that another path would be better for them," said Grant Schafer, the school division's community connection supervisor at the Department of Instruction.