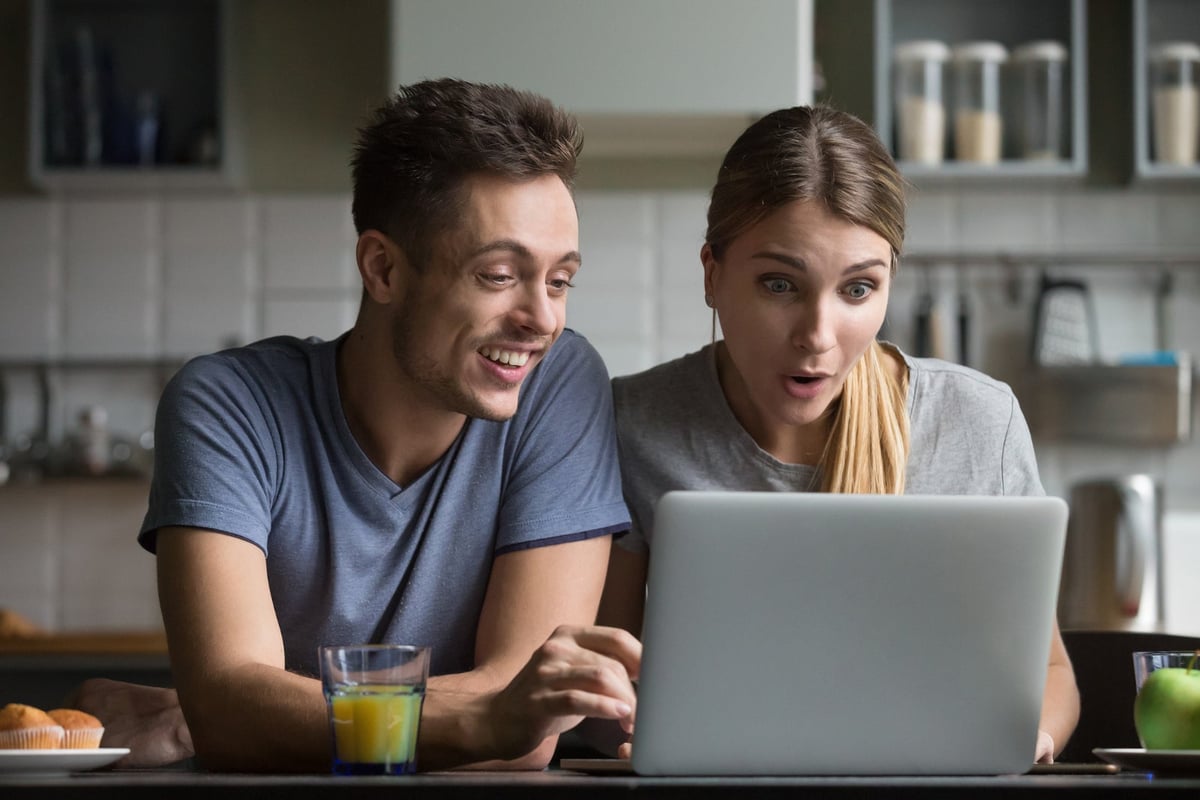 Accounting can take hours out of your day. When applied to accounting, artificial intelligence (AI) completes the most time-consuming and monotonous tasks before you can say "reconciliation."
You probably don't like spending your Monday morning painstakingly entering into your accounting software every invoice you received last week. Maybe only the promise of donuts gets you through your monthly bank reconciliation.
Artificial intelligence (AI) is about to shape the future of accounting, which could rid you of your least favorite accounting tasks.
Overview: What is Artificial Intelligence (AI) Accounting?
When I hear AI accounting, I imagine a i robot-type machine wearing a transparent green visor sitting in the corner of a desk (Google "accounting robot" if you need a visual). In reality, AI accounting is decidedly different. Artificial intelligence systems built into your accounting software help simplify repetitive accounting tasks, making bookkeeping less of a pain.
If you've ever put off accounting for your small business, you know how tedious it can be to record dozens of transactions at once. AI accounting analyzes your business transactions to shorten the time it takes to record sales and business expenses, reconcile accounts, and generate tax documents.
Beyond accounting – the process of tracking business transactions – AI helps auditors identify fraud and unusual transactions that warrant further investigation. An artificial intelligence audit system detects patterns compatible with fraud faster and more accurately than humans.
Can artificial intelligence replace accountants in the future?
Accounting involves repetition. You will know this from your first bank reconciliation. Where there is monotony, AI can step in to help. This raises the question: will accountants exist in 10, 15 years? Am I going to entrust my paper tape calculator to a robot?
Of course, we can't know exactly what the accounting profession will look like a decade from now, but speculation is part of the human condition. We expect accounting to be here to stay, although it may look very different as AI technology advances.
We've all seen a sensational headline that reads: "10 Professions AI Will Take Up In The Next 5 Years". Accounting often makes an appearance. Curiously, there are so many articles attesting to the sustainability of the human accounting profession.
The reason for this dichotomy is that accounting jobs are not all alike. An accountant's job may be closer to a payroll administrator or bookkeeper, while another may be responsible for developing a financially sustainable growth plan for a business.
Yet another could be advising clients on tax-efficient business strategies. There is not much overlap between these roles, making it difficult to pin down the trajectory of the entire profession.
In January 2020, McKinsey & Company released a report on the effect robotics, AI, and machine learning will have on jobs in the United States, including those in the accounting industry. The company examined the "automation potential" of more than 750 job titles based on the percentage of time spent on tasks that a computer could perform using today's technology.
Accounting appears in two job descriptions: one that describes administrative accountants and another that refers to auditors, tax accountants, and management accountants.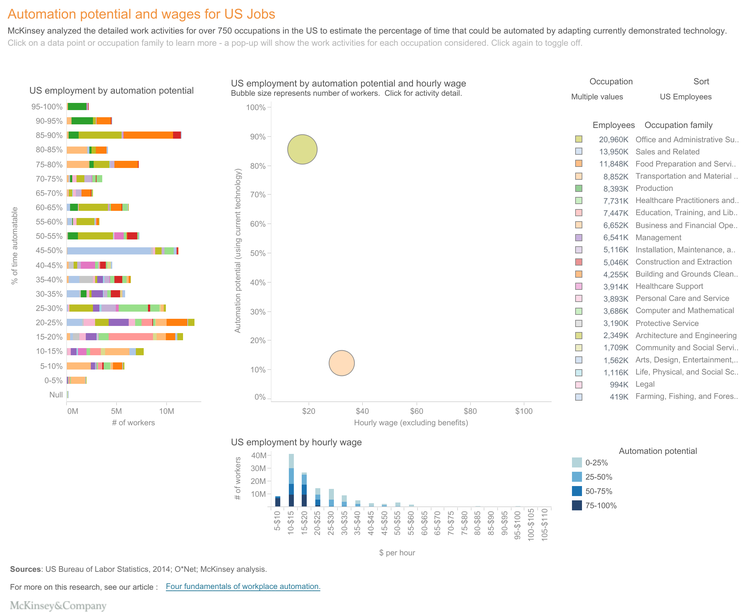 The outlook for accountants looks rather bleak: 86% of tasks could be automated. The roles of accountants include recording transactions and performing reconciliations, which accounting software can already do – with the help of a human. Payroll administrators, included in this category, spend time filing documents, a job performed more efficiently by payroll software.
The second camp of accountants, comprising auditors and management controllers, shows an automation potential of 12%. Management accountants spend time designing streamlined business processes that maximize efficiency. AI has yet to master creating cost-cutting protocols, although it is great at following them.
So, will green-visored accountants be replaced by green-visored robots? Some, maybe. Those whose jobs revolve around repetitive tasks could see their positions laid off in the coming years, but those who work on the strategic side of accounting are unlikely to pack their cubicles just yet.
The 5 accounting tasks that artificial intelligence can do
Accounting software vendors are investing heavily in AI research and development to save business owners time on tasks ranging from the most trivial to the most complex. Check out some of the small business accounting tasks that AI can do in the background.
1. Accounting
AI has enabled business owners to keep their books with little to no accounting knowledge. While just 10 years ago every business owner had to learn how to balance a ledger, you could go years now without knowing what it is.
Many accounting packages, such as QuickBooks Online, analyze your bank transactions and recommend where to file them based on how you've recorded similar transactions before. It's AI at work, processing your past actions – and perhaps those of other customers – to predict future actions.
Intuit, owner of QuickBooks, informed investors in 2019 of its plans to implement new AI features, such as automated transactions. AI in accounting software can also detect errors, such as duplicate transactions.
2. Payroll
AI has yet to invade payroll, but a Bloomberg Tax report cites its imminent presence. Instead of having someone spend hours reviewing and approving employee timesheets, an AI system could flag irregular timesheets for human review and approve the rest.
The payroll implications of AI could lead to significant efficiencies for companies with hundreds of employees. Today's payroll systems can flag when an employee reports 400 hours worked in a week or when an employee charges for a client project to which they are not assigned. An AI-powered payroll system can go further and uncover cases where employees overreport their hours, accidentally or fraudulently.
3. Forecast
Cash flow is essential for small business growth. When you're short on money, it's hard to grow your business. A company overflowing with cash could miss an opportunity to accelerate its investments. AI accounting systems have cash flow forecasting tools in place that can estimate your company's future cash position, barring large one-time purchases.
For example, QuickBooks offers a cash planner that forecasts your business' cash position up to 90 days in the future. Xero, another popular accounting software, has technology that predicts your bank balance up to 30 days in the future.
4. Preparation of declarations
Can your tax accountant recite the 80,000+ word tax code? Intuit's tax knowledge engine probably can. Not that it's a competition or anything.
When you're using tax software, there's probably some machine learning going on behind the scenes. If you've read The Ascent's tax content, you know that your eligibility for certain tax deductions and credits depends on no less than a million factors. An AI-backed system automatically analyzes your business finances to uncover potential tax savings for your small business.
5. Accounts Payable and Accounts Receivable
Humans like routines, sometimes wrongly so. If you only pay your bills on the second Thursday of each month, you may miss early payment discounts for bills received earlier in the month.
An AI Accounts Payable (AP) system could process your invoices as soon as they are received and alert you to chances of paying sooner for a discount. You can integrate apps like Roger with your accounting software to automate APs. Similar apps can help you process and approve expense reports faster.
Likewise, AI-assisted accounts receivable systems can more accurately predict when your customers will pay based on their payment history. AI AR systems are less ubiquitous than automated AP systems, but you can expect to see these features rolling out in the coming years.
How accountants can benefit from using AI
Small business accountants should embrace, not fear, AI. The accounting journal published an interview with three CPAs who agreed that AI has improved and will continue to improve their professional lives, primarily by removing low-value tasks that a computer could perform more efficiently.
Accountants who leverage AI can spend more time doing the work they were trained to do, from analyzing financial statements to advising executives and clients.
See you soon maybe
I can't know if my job will be around decades from now, but what I do know for sure is that AI can make the work of accountants more exciting by taking over our least favorite tasks. And if a robot replaces me in the future, I hope he will appreciate my box.